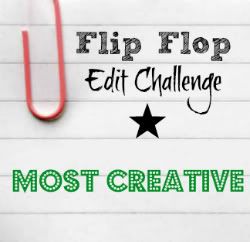 I haven't had an edit challenge in a while... and I've missed that. Thanks, Amy, for letting me in on the Flip Flop Edit Challenge. Here's a photo of her friend, expecting her fourth "gorgeous kid".
Really, people. She is just beautiful and glows without any editing. Yet, an edit challenge needs editing... so I just made a "clean" edit, showing off her beautiful face and baby bump. Here you go:
My edit:
Original, Straight Out Of Camera (SOOC):
I added extra canvas to the top and to the right, to give her more head room.
Cloned out the tree and chips, and also the car in the background, hoping for less background to bring more attention to her pretty face.
Redirected the lighting with an omni render, to bring focus to her face.
Used dodge, burn, and sponge tools to bring out details and highlights in her awesome hair, bracelet, waistband, and eyes.
Color and brightness were adjusted with levels and curves.
Skin softening with an inverted high pass filter.
Slight gaussian blur to background edges, and vignetting.
I cropped one more time, just leaving her blouse in all its cuteness. I actually "added material" to its length with the clone tool to make it work.
That was fun :>) And quite easy with such a beautiful mom!